Magnesium Anodes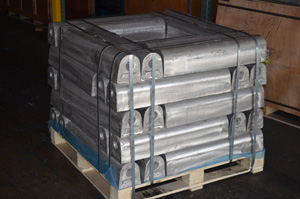 Galvotec's magnesium anodes are produced in a variety of shapes and sizes for use in seawater, brackish water, and fresh water cathodic protection systems.
Our experience in producing galvanic anodes assures that you will receive top quality anodes that will effectively inhibit corrosion when used in a properly designed and maintained cathodic protection system.
Composition:
Galvotec's magnesium anodes conform in composition to the requirements of U.S. Government Specification MIL-A-21412A (Ships). This 6% aluminum, 3% zinc alloy (AZ-63) usually provides the best combination of economy and operating characteristics in seawater or brackish water.
Galvanic Efficiency:
The current efficiency of Galvotec's magnesium anodes is nominally 55% in seawater and the current capacity is about 550 amp-hr/lb. The open circuit potential of the magnesium alloy used is nominally -1.55 volts to a copper/copper sulfate half cell in seawater; the driving voltage to galvanized steel is about 0.70 volts, providing a relatively high current output per anode. Both hull and condenser anodes are available with a plastisol (polyvinyl chloride) coating which serves as an excellent current barrier shield.
Applications:
Magnesium anodes are effective and economical corrosion fighters that for over 25 years have been protecting a variety of steel structures in salt, brackish and fresh water, including:
Hulls of ships, barges, tugs and boats

Ballast tanks of ore carriers and similar vessels

Bulkheads

Water storage tanks

Piers and pilings

Pipelines

Heat exchangers

Travelling screens
For further information, or to discuss your specific requirements, contact our sales office.
Click here to view our Magnesium Anodes catalog in PDF format.